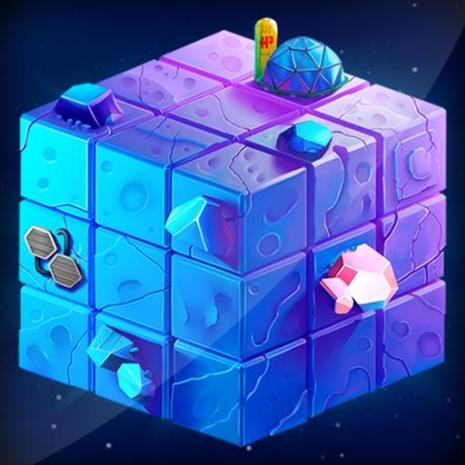 QB Planets
Game overview
QB Planets is a family-friendly puzzle space adventure game. Explore diverse, challenging planets with unique mechanics and collect stars to unlock space suits and ships.
Game description generated withAI
Indulge in the love of solving puzzles, but with a twist...in the vastness of outer space! QB Planets is the perfect adventure for the entire family, and if you're a puzzle enthusiast, it will test your skills to their limits. You get to be an Astronaut, exploring cube-shaped planets, each with its own mysterious powers and dangerous environments. Collect scattered stars to fuel your ship and advance to newer and more exhilarating planets. Remember to collect three stars, avoid obstacles, and find the shortest route possible to your spaceship. With QB Planets, it's all about twisting your way through rigorous puzzles while guiding your Astronaut through strange worlds.

In QB Planets, space exploration has never been more fun. You can unlock distinct space suits and spacecraft by completing special missions. Challenge your friends to see who becomes the Twist Champion on each level! Like to bring things into the real world? QB Planets lets you excite your friends and family by playing in AR mode. You can track your friends' progress throughout the QB universe on Facebook and see how well you stack up!

QB Planets is suitable for everyone, with nostalgic cube puzzle mechanics and family-friendly themes. Play at your own pace. You get to enjoy handcrafted and unique worlds, each with stunning themes from Science Fiction to Fantasy. Don't forget to choose a charming astronaut suit and delightful spaceship!

QB Planets' cube twist gestures are intuitive, and controls are easy to understand, with one finger. You can rotate the cube in any direction, which takes you to heaps of challenges, over 100 puzzle planets, fascinating themes, 290 puzzle medals to collect, 4 suits and 4 ships to unlock.

Experience unique mechanics on unlocked planets, from ancient portals to freezing lakes and bubbling volcanoes. QB Planets gives you an alternate reality option to inspect and play in the real world. Toggle it on and off during gameplay to get a new perspective on that tough puzzle. You can use the same screen controls for seamless transitions.

QB Planets is the ultimate puzzle-solving space adventure that everyone will love. With unique levels, stunning visuals, and easy controls, you're sure to have a great time. So put your twist on the game and become the Twist Champion on each level.